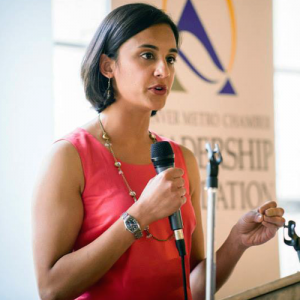 Ulcca Joshi Hansen is an author, consultant, and Founder of Educating Potential.  Her work is aimed at changing the dialogue about education in America and supporting organizations, school, districts and individuals as they craft educational experiences that identify and support the potential of all students.
She is first and foremost an educator, whether as a mother to her two sons, in a classroom with students, writing/blogging (www.educatingpotential.com) or working to shape policy. Her career began as an elementary teacher in New Jersey and Newark public schools. She has spent the years since then learning about and working within different parts of the education space.
After serving as a Program Fellow at the Geraldine R. Dodge Foundation, Ulcca completed her PhD at Oxford University examining education models that focus on whole child development, and earned her JD from Harvard University focusing on education law and policy, local government, and poverty law.
Educating Potential's work reflects her areas of experience and expertise with non-profit planning, program design, evaluation and improvement, teacher preparation and school-based improvement strategies including educator evaluation. Most recently, Ulcca served as Vice-President of the Public Education and Business Coalition (PEBC), and Executive Director of the Colorado Boettcher Teacher Residency. Prior to joining PEBC she was Associate Director for Educator Effectiveness at the Colorado Legacy Foundation where she supported the work of the State Council for Educator Effectiveness as it developed Colorado's statewide teacher and principal evaluation systems. She then served as an executive on loan to the Colorado Department of Education.
Ulcca has consulted with numerous organizations including the US Department of Education, the American Institute for Research Great Teachers and Leaders Program; Stand for Children; the National Center for Assessment; Massachusetts, Georgia and New Jersey Departments of Education; Oxford University and the British government.  She is currently a Lecturer at the University of Colorado where she teaches a course on Education Policy.  Ulcca has been recognized repeatedly for her commitment to public service and the field of education as a Harry S. Truman Scholar, a British Marshall Scholar, and a Paul and Daisy Soros Fellow.
Ulcca holds a B.A. in philosophy and German, and a certification in early childhood and elementary education from Drew University.  She served as a Founding Board Member of Rocky Mountain Prep, a Pre-K – 6 charter school; and as Board Chair of the Rocky Mountain School of Expeditionary Learning, both public schools located in Denver, CO. She was part of the Denver Metro Chamber Leadership Foundation's 2013 Leadership Denver class, and currently serves on the Board of the Colorado chapter of the American Constitution Society. She is currently working on a book about education reform in the US, exploring cross-disciplinary research that should be informing conversations about how schools can best support students in their academic and personal growth.